iPad Holders | Wall, Counter, Air and Mini Models
---
Floor and Countertop iPad Holders for Business or Personal Use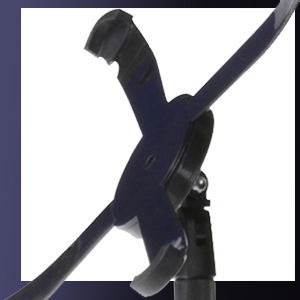 What makes these iPad holders our best selling models? These Apple® accessories are the best of the best as far as quality, price, features, and popularity are concerned. From stationary locking kiosks to portable folding mounts, these iPad stands for business fit the needs of the marketplace. Reasonably priced countertop iPad holders that are available in locking and non-lock configurations are easy to find by browsing this, or our other, categories. Security kiosks for commercial or institutional purposes are available, as well as stands that do not include a lock for residential or school use. Many of our tablet enclosures, iPad holders are offered with optional locks. A wide variety of styles are available in addition to different colors and finishes. Enclosures to match any environment or décor are presented here for online browsing and ordering. Tablet stands for residential use generally will not include a lock. IPad retail stands for business uses, on the other hand, either include locks or have the option to have them included. Whichever style fits your needs, you are sure to find it here.
What are the factors that go into selecting a particular style of iPad enclosure?
Use: iPad holders for Business or Commercial environments generally need security kiosks or stands, while residential or personal users may not need a lock for their device. Mounts that will be used in a single location can differ greatly from those that are portable. A tablet holder for use in the car will in general not be suitable for use as a menu or directory display in a mall.
Traffic: Heavy user traffic can require a heavier-duty mount, or to have security measures installed in the stands. Depending on the use, certain buttons may need restricted access as well. Floor models that offer 360° rotation will often be best in high traffic open areas. High traffic retail sites, however, may prefer stands that can be drill-mounted as permanent fixtures.
Location: Tablet holders that are wall mounted may be the optimal choice for information kiosks beside elevators in lobbies. Information stands in the middle of an open floorplan, however, will probably prefer a fixed-height pole model. Similarly, the same lobby might also need a countertop or desktop model for check-in purposes at the registration desk. Handheld mounts are available that fit all needs.
Portability: Lighter models, like those made of plastic or aluminum, are more suited to being moved from one location to another. Desktop models that are not permanent mounts can be easily carried from one place to another. Locking models with either caselocks or cable-locks provide both security and portability.
Durability: Different construction materials impact both looks and durability. Steel or aluminum construction is the most durable, but heavy-duty plastic also wears well and is lighter in weight.
Looks: Common colors used for mounts are intended to coordinate well with many different environments. Black, white, and silver (or aluminum) are the most often seen. Decorative elements for stands, including colored or shaped bases, are also offered.
When ordering iPad stands for business, remember that not every tablet will fit in every holder. Certain styles are meant to hold certain models or generations of handheld devices, while other mounts offer more flexibility. Adjustable mounts are available that will fit a range of sizes. It is also imperative to check whether holders are engineered for use with only with Apple® products (or even only certain generations), or if they can be used with devices from other manufacturers.
An important factor to keep in mind is that not every tablet will fit in every holder. Certain kiosks are engineered to hold only particular models or generations, while other mounts offer more flexibility. It is also imperative to check whether stands are engineered for use only with Apple® products, or can be used with other manufacturers' devices.
Other considerations when looking for the "perfect" accessories for your personal or business tablet use include the size of the mounts needed. Simple folding easel can take up very little counter or desk space, while free-standing pedestal style mounts have larger footprints. If vertical space is a consideration, wallmount holders are available, or podium-style kiosks that have a fixed height. Gooseneck styles are available in both short (desktop) and long (free standing) versions, and also come in adjustable configurations for those who want both options at once.