TV Mounting Accessories Help Secure, Store and Transport Monitors
---
Locks, Shelves & Cases for TV Stands and Mounts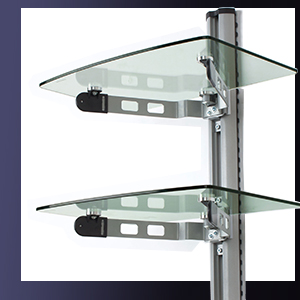 How can TV mounting accessories protect and even improve monitor or television displays? Simple: options such as television stand locks, shelves & cases are designed with professional use in mind. Commercial grade TV mounting accessories take into account that trade show exhibits require additional security; that equipment shelving for e-training or tele-conferencing needs to support a variety of different electronics and that monitors frequently end up being used in a number of different locations over their lifetime of professional use. Designed for use in professional environments (but stylish enough for home use), our TV mounting accessories such as locks, shelves and cases are meant to help and assist business users in getting the most out of their equipment. over the years, audiences have come to expect plasma TV stands with flat panel monitors in sales presentations, training sessions and more. The use of flat panel television screens for advertising, sales, and education, however, requires security and safe transport for expensive and often delicate equipment. Our monitor stand accessory selection, especially wheeled cases, mounts, and locking storage, meet those needs.
How can TV mount add-ons protect business technology investments?
TV mounting accessories such as locking crates with wheels can easily help trade show booths move from place to place and be set up and taken down quickly. In addition to aiding mobility, AV equipment add-ons can help protect presentation setups in storage between uses.
Being able to securely move and store monitors and other equipment allows retail stores to reconfigure floor layouts, businesses to use plasma TV stands in office suites and convention centers and training departments to conduct on-site and off-site educational sessions and teleconferences using LCD flat panels, cameras, codecs, playback equipment and more.
Mounting accessories like shelves come in a variety of configurations, from open shelving to sliding drawers. Drawers can be secured via combination lock, and affixed under the base of a TV pedestal in order to store a laptop or DVD player safely between uses.
Height-adjustable brackets are perfect for safely supporting cameras during videoconferencing or general webcam use.
Accessories like these benefit many different types of industries. Business owners and professionals can use these accessories to travel easily with flat screen monitors and equipment. Trainers can create content on their computer or laptop and take it to the training room or offsite location. Secure transportation saves time and reduces the chance for error or damage during transfer to another device, as well as allowing easy last-minute changes to slide shows or handouts.
TV mount add-ons also complement uses from trade shows and hotel lobbies to residential entertainment centers. Designed to match a variety of models and styles, from contemporary metal and glass constructions to sleek wooden cabinets, our professional quality locks, shelves and cases challenge the "retro-fit" created by many aftermarket additions. Maintaining a cohesive look is important for equipment used in high traffic or public areas. Our locking wheels, mount accessories, padded feet, detachable shelving and secure transport and storage offer stylish, secure options for display fixtures in any environment.