Rolling TV Stands Provide Excellent Mobility
---
Commercial TV Stands with Wheels Transport Monitors Easily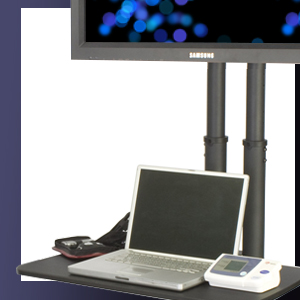 Why choose rolling TV stands? When presentations need to be portable, whether simply moving from one room to the next or for use at trade shows in offsite locations. A quality monitor rack engineered for securely mounting wide screen TVs is also needed if you need a computer with monitor for conferencing in different rooms. Our rolling TV stands offer convenient lockable wheels that allow the workstations from room to room with ease and provide extra stability while they are in use. These universal monitor stations fit most brands of LED televisions and widescreen monitors including LG, NEC, Panasonic, Samsung, Sony and Toshiba. Each style is a multipurpose VESA-compatible flat screen bracket, with a variety of options available to tailor the accessories to meet any need. These types of rolling Tv stands are optimal for offices, training centers, clinical settings, and trade shows.
What are the different options offered by these mobile monitor displays?
Rolling TV stands differ from all other styles. Ease of movement from one place to another, whether from one side of a conference hall to the other or between hospital training rooms, allow education and presentation professionals to make the most of their equipment. Most models offer at least two locking casters that keep the portable mounts stable when engaged.
A camera mounting shelf is a necessity during tele-conferencing or distance training sessions. Many of our professional grade mobile & conference TV stands offer a high shelf specifically designed for allowing maximum visibility to video cameras, webcams or other visual aids and devices.
Equipment shelves are invaluable for holding presentation accessories. Keeping multimedia gear and supplies together at trade shows or off site meetings and events ensures sales, advertising and educational slideshows and videos have everything they need to run smoothly.
Built-In storage shelving and compartments allow presentation and training equipment to be securely transported together with the LED TV stands. Locking cabinets keep valuable electronics, merchandise and accessories safe during storage as well.
Some of our commercial grade mobile and conference TV stands include their own carrying cases for additional ease of transport. This type of portable TV stand is perfect for use at trade shows or offsite conferences and meetings, as it reduces the change of damage during movement.
For maximum visibility, some of our professional quality monitor displays offer multiple screen mounts. Dual monitor displays increases visibility and is a key element to many educational presentations or training sessions.
Our universal TV stands hold a variety of sizes of flat panel plasma and LCD TVs. The various work station models support screen sizes from 32" to 72"in size. Each of the mounting brackets is VESA certified, which means they are easily matched to fixtures. VESA, the Video Electronics Specifications Association, brought stand and television manufacturers to the negotiating table to create specifications by which both industries comply. This takes the guesswork out of buying mounts for flat panel plasma and LED TVs. Simply match the hole locations on the rear of your TV to the specifications of the mount - it's that easy!