Small TV Stands are Perfect for High Traffic Area Media Displays
---
Display Fixtures for Small (Less Than 31" Wide) Screens & Monitors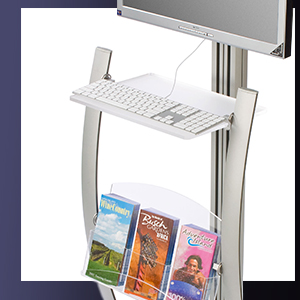 Do small TV stands (those with screens under 31") have a place in today's business world? Of course. This manageable monitor size is perfect for creating easily portable multi-media showcases for live streaming or recorded content, entertainment and much more. Small flat screen TV stands are also great for fitting compactly on showroom floors, in lobbies or in trade show booths. Combination floor fixtures, like pedestal bases with brochure pockets for literature or other collateral, free up sales staff to chat with prospective customers. Our commercial grade small TV stands, also known as freestanding mounts for smaller monitors, are available both with and without holders for additional collateral or advertising materials. Shelving, poster frames, literature pockets, keyboard and tablet holders are all options. Our huge selection contains a full variety of styles, sizes and finishes to match any use or display need.
What are some of the uses for freestanding mounts for smaller monitors?
Small TV stands are ideal for unstaffed video displays in busy high traffic areas such as hotel lobbies, showroom floors and waiting areas.
Commercial businesses and retail departments find small screen display fixtures showcasing product or usage information and presentations can help attract customers and increase sales.
Smaller flat screen TV stands easily incorporate shelving or literature holders for a keyboard, laptop or DVD player, making them are ideal for multimedia trade show or corporate presentations or demonstrations.
Medical offices, car dealerships, spas, and fitness clubs can market or advertise new services or procedures without taking up undue floor space with a sturdy freestanding mount for smaller monitors.
Design variations offer a choice of media combinations for deploying marketing strategies. For example, if print collateral is best for conveying product details, a display with built in shelving or literature trays may be the perfect showcase for brochures or glossy sales one-sheets. For businesses who advertise through professionally styled photography, or whose campaigns are unified by distinctive logos, slogans or artwork, flat and curved poster frames come in a variety of sizes to match any needs. Incorporating a flat screen freestanding mount for smaller monitors into display fixtures increases visibility and attracts customers to true multi-media advertisements.
Although they can be used in any location, our flat screen television holders are designed to withstand heavy use in commercial settings. Commercial grade freestanding mounts for smaller televisions are made with the same durable materials as their larger versions. Lightweight but sturdy aluminum frames can stand up to busy pedestrian traffic in areas that give advertising its highest impact. Wide, heavy bases keep these small screen display fixtures steady while offering maximum accessibility and visibility. All of our stands for plasma TVs use VESA-compatible brackets, enabling easy and perfect matching between exact monitor and mount sizes.