Portable TV Stand | Universal Trade Show Racks for Monitors
---
Portable Monitor Stand - Knockdown Truss Systems with Accessories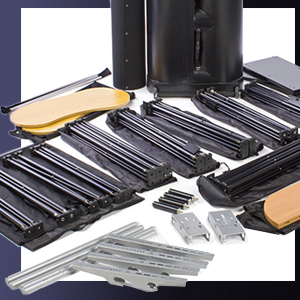 Where would you use a portable TV stand? Anywhere you want to! The commercial LED mount is the optimal promotional tool at trade shows, meetings and special events. It is also great in retail locations, educational establishments and professional buildings. The portable TV stand, also known as a trade show monitor stand are durably constructed with knockdown metal truss systems. The sturdy aluminum frames will provide years of service, even in high traffic areas. Each of the TV truss systems is perfect for travel and businesses that are often on-the-go.
The universal monitor stands support a variety of television brands including Panasonic, Toshiba, Samsung, Sony, and Vizio and are the smart choice for those that need to both entertain and promote. Place a flat panel plasma or LCD stand in the lobby or waiting room of any building to provide precious information or entertainment to visitors and clients. These LED monitor stands may be used in the classroom and colloquium center to provide educational programs to students and professionals. These flat screen LCD or plasma television mounts are superior promoting tools in tradeshows, storefronts and even on the showroom floor!
What are the special features of a trade show monitor stand?
A portable TV stand is VESA compatible. VESA, the Video Electronics Standards Association, brought television and stand manufacturers to the table to create specifications that make it easier for LED and plasma television owners to find a stand for their TV. Just match the VESA numbers of the monitor to the numbers of the brackets! It's that easy.
The commercial monitor stands are fully portable. They are designed for quick set-up and easy take down for those that travel to and from events. Whether for a trade show or a home show, these plasma stands quickly knockdown for travel purposes. Some models come with transport cases that ensure all parts are safety stowed in one place as they are carried from place to place.
These TV brackets suspend your flat screen plasma or LED screen above the crowd. The tall truss models are quickly visible from a distance, making them the eye-catching display every tradeshow exhibitor needs. Several of these impressive universal TV fixtures even hold two large sized flat panel screens! What an impact your promoting will have when you promote your units or services with these powerful promoting tools!
Educational establishments rely on portable flat panel stands, too. Traveling meetings option as they can set up their educational program everywhere that has electricity! This opens up the possibilities as not all locations may have the equipment needed to display your demonstration with a large format screen. Schools use these flat screen stands in classrooms, too. When not needed, they can be quickly stored out of the way. Or, they can be set up in an auditorium, media center or cafeteria to provide occasional entertainment or informative messages to staff, students and parents.
Lastly, professional businesses may want portable stands for use in colloquium rooms for video conferencing and slideshow presentations. The uses and benefits of these flat screen LCD and plasma displays are virtually endless!
These television stands are accessible in a variety of styles. The truss frame style creates a rugged display that quickly breaks down for storage - no tools necessary! Our company features several models that support two 42" or 50" monitors in either vertical or horizontal format. We also provide a package which includes two flat panel stands that connect at the top to create a large display between which an 8' x 8' graphic may be exhibited. We offer this model with and without the graphic insert. These stands also feature shelves beneath the TVs that may be used to display literature or promoted products, electronic equipment, or simply to use as work stations. The rugged carry cases of these impressive exhibits may be used as a podium as well.