POS / Single and Double-Pole Commercial TV Stands
---
Commercial TV Stands for Point-of-Sale Locations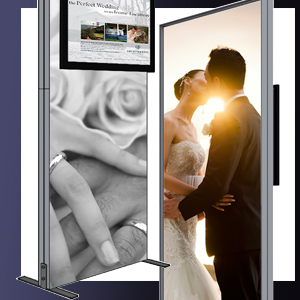 Does your company need POS / commercial TV stands for presentations, advertising or information/wayfinding? The many styles offered here are the ideal choices for retail operations on a budget. The business-grade POS / commercial TV stands, also known as plasma TV mounts, come with and without wheels for a wide variety of uses and applications. All of the flat screen brackets offered here are equipped to host a wide variety of the universal mounts system: VESA. LED mounts, POS / commercial TV stands with shelving units are optimal for holding any sort of AV equipment from a laptop to a DVD player to a smaller digital signage kit. Some of the newer models offered here are also equipped with camera mounting shelves so that users may hook up a web cam to their monitor and use their new television bracket for hosting interactive meetings or to publish live web broadcasts from exciting trade shows. Many heavy duty TV stands with tilting heads also offer height adjustable shelves to add to their overall usability. The vast selection of plasma and LCD flat screen tv holders offered here is not limited to tradeshow or office use, we also offer models built for lobby/directory use and counter balanced models which are built to put the television directly in the window of a retail location.
What are some of the various styles of POS / commercial TV stands?
Stationary models which are offered here are ideal for many uses though they can't be simply rolled from one location to another. Floor standing LED or plasma or flat screen mounts can be used in a vast number of different settings. There are three main styles of non-wheeled television stands: single pole, truss work and counter balanced (counter weighted).
The single pole TV brackets are ideal for use in the modern office. These heavy duty TV stands have clean lines and are not flush with features. The strength of these models is to simply hold a television in both portrait or landscape mode so that business professionals may simply present their power point presentations, sales pitches or annual reports. These freestanding monitor brackets are not strictly just for the corporate world, retail environments often use them as well to show advertising shorts, music videos or short films on the sales floor. The slim design of the mounts allows for the retail shop owner or manager to use an un-assuming television mount to advertise while not taking any focus away from the items on the floor.
The truss work TV mounts, while applicable in nearly every situation, are mainly used for tradeshow and expo use. This is due to the overall look of the truss system, as the design is synonymous with these events but moreover the monitor holders in question are most often used at these satellite locations because the entire system can break down and be packed up into a single carrying bag. Yup, that is right, an LCD/plasma flat screen mount system which can host a television or monitor up to 50" weighing less than 80lbs can be hosted up to 74" high (over 6' tall) and broken down and placed in the back of small rental car! We also offer a massive 10' model as well which can host (2) 50" in landscape formats, one in landscape and one in portrait or a single monitor in portrait or landscape. This large LED/plasma flat screen television is sure to draw in a large crowd at any event since your digital media will be show at nearly 10' high! With modern TV systems becoming thinner and thinner the weight limits on these truss systems will soon be overkill, LCD monitors are getting lighter and lighter every year and these brackets will only become sturdier as time goes on!
Counter weighted TV Brackets are newer to the market and are marketed toward the retail world. Traditional mounts use the weight of the monitor itself to counter weight the bracket, plainly put the units are mounted to the rear of the base and then the forward weight of the flat screen keeps the whole unit stable. The new models allow for the TV to be placed in the front of the unit. The base is elongated and weighted and is ideal for placing an mannequin or other advertising display while the television mount is placed directly in the window of a store front. These revolutionary type of mounts are not just used in shopping locations, there are models which have the same design which are designed for office locations. These plasma TV mounts are crafted with a reversible base so that the unit can be slid under tables and puts the television directly at the table of the meeting room.
In addition, many accessories are available for these television mounts. Many units have shelves for a plethora of different utilities. Some models have literature holders which are ideal for use in expo or tradeshow use. Our newer models have small platforms at the top of the entire unit which are built to host web-based cameras. These allow modern offices to use traditional monitors as web-enabled devices!