AV Carts | Mobile Audio Visual Equipment
---
AV Carts - TV Trolleys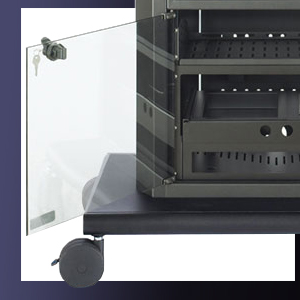 Trying to find AV carts that are mobile and capable of accommodating necessary accessories? Our mulitmedia stands offer all of the necessary features for creating functional and exciting presentations designed for a variety of purposes. The AV carts, also known as LED TV trolleys, has wheels at the base for convenient portability. These sturdy and attractive audio visual units will roll to the exact place for conducting sales pitches, attending videoconferences, lectures, training sessions and other demonstrations. The mobile stands offer locks on at least two of the casters or wheels to stabilize the display when in use. Each of these universal AV carts is crafted entirely out of sturdy steel or MDF material for a durable unit that is sure to last a long time. The roomy portable fixtures have plenty of room for all of the components of the presentation. The audio equipment trolley can be used to hold laptops, flat screen LED TVs, multimedia players, projectors or other tools.
Where do TV trolleys hold presentation tools and accessories?
The AV carts has a top shelf or counter for the necessary projectors, Plasma, LCD flat screen TV or other technology. Users can elect to place a mount on the flat surface. Depending upon the size of the model, different sized televisions may or may not be appropriate.
The mobile AV stand could offer additional shelves to the top rack. Shelving beneath the highest rack could be completely open for convenient access to the electronic equipment.
The unit may also fold out to accommodate laptops and other electronics. Retractable shelving is great because it will be used only when necessary. The side shelf can certainly prove useful.
The audio equipment trolley can come with cabinet space. The cabinetry is located at the base of the unit for storing all of the valuable electronics that are not being implemented. Some of the cabinet systems have locking doors to further secure the visual tools.
As flat screen televisions are becoming more and more common, the price of Plasma and LCD TVs is decreasing. Therefore, associations with lower budgets are able to afford these screens. The mobile audio visual collection is sure to assist in making the most of the televised demonstrations and sales pitches. Steel exteriors are rugged and will last a long time. Administrators should think of the audio equipment trolley as an investment that will bring returns for years and years to come. That being stated, the prices associated with the items listed are very competitive. These universal AV stands include a great deal of features that aid in the overall presentation. A UL listed power cord stretches twenty fit to make connecting to outlets easy. Cord winders are included to wrap up the long cable. There is a surge protector with four separate outlets to get the necessary electricity to power all of the visual tools. The mat comes standard to best keep items in place. All of these special features make the audio equipment trolley quite convenient.