Dual TV Stand Displays More Than One Monitor
---
Dual TV Stand - Universal Multi Monitor Mounts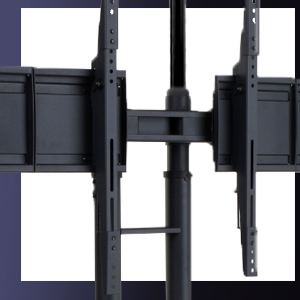 Who uses a dual TV stand for monitors or televisions? Office or business professionals, advertising execs, training coordinators, sports complexes, bars, restaurants, and other retail associations all use these transportable LCD fixtures. A dual TV stand makes excellent workplace or advertising tools. They fall into two styles: office or retail accessories for everyday use and temporary exhibits that set up and break down easily. Floorstanding dual/multi racks for televisions or monitors help workers get more done, help promote ad campaigns and merchandise at trade shows, meetings, help in training staff, provide information or entertainment and much more. A dual TV stand, also known as a multi monitor mount, is perfect for any business or corporate location.
These universal TV stands, like our single monitor displays, are superior tools that showcase a wide variety of items. Use an LED TV pedestal in a large training room to ensure that speakers can be easily seen and heard by all. In a lobby, these aluminum stands for TVs can present an informative message to visitors. These commercial TV mounts hold two large flat panel monitors. Raised high above the crowd, these ideal floor racks ensure that every message is seen from afar! We stock these impressive fixtures at low, wholesale prices 24 hours a day, 7 days a week! Check out our online catalog to find the television stands you need!
What features does a multi-monitor mount offer?
Dual TV stands can draw attention to every advertising campaign. Promoting is all about exposure. Increased exposure equals increased sales. If someone doesn't see you, they can never learn of the benefits of your product or service and they will not buy from you! It can sometimes be difficult to see monitors in crowded events. These commercial monitor displays raise a TV well above head level making them easy to spot from across a crowded room. Once you have a potential customers attention, you have the chance to make that sale! Increased sales equals increased profits, which is what being in business is all about!
The aluminum floor stand holds televisions or monitors in both vertical and horizontal format. This allows for a variety of custom messages to be designed that will be easily seen in a crowd.
These can hold either two large, flat panel monitors or a single television. This allows great versatility when setting up trade show exhibits. Two monitors may be ideal for a large trade show while one may work just as well in a smaller venue. Add large 8 x 8 custom graphics and two LED TV stands and you have an even more impressive exhibit!
They set up and break down easily making them highly transportable. Each comes with its own carry case to keep arts together when not in use. When broken down, they are lightweight and easy to carry. Every professional can carry an impressive advertising tool with him or her wherever they may go.
These universal plasma mounts are the best on the market. Use them at trade shows to promote sales or at training meetings to be sure everyone is seen and heard. At 10' tall, they are sure to attract a lot of attention! With strong aluminum construction and a simple design, these flat panel entertainment centers are the perfect choice! The extra amenities like a travel case, locking clips, and countertops add to the allure of these mounts. Speak with a consumer service representative to learn more about stands for LCD TVs now!