Desktop Monitor Stand for Countertop & Worktable Use
---
Desktop Monitor Stands - Tabletop TV Mount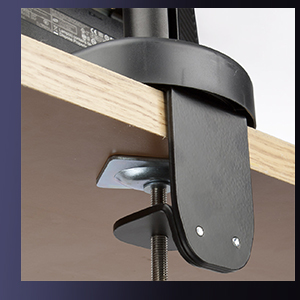 Did you know that a desktop monitor stand offers health benefits as well as usability features? It's true! Ergonomic flat screen tabletop monitor holders are a great choice for just about every business. The two available mounting methods improve the value of these racks. Used in an office, desktop monitor stands, frequently known as tabletop TV mounts, may be fixed solidly on the desktop of those that are happy with their office configuration. For others that may like to occasionally change their office design, clamping the units to the countertop is most beneficial. Racks with multiple arms may also be used on portable desktop workstations. Desk mounted monitor displays should be solidly mounted on a portable unit. This allows for mobility between rooms and buildings without the worry of the clamps being knocked loose during a move. Other areas that are ideally suited for these stands with multiple arms are conference rooms, break rooms, trade shows, and even showrooms! There is no end to the places these durable desk top racks may be used.
What makes this style tabletop TV mount different from the rest?
A desktop monitor stand offers a variety of mounting options. This monitor rack mounts directly to a counter or desk. It does not affix to the wall or stand on the floor. It may be attached to the desktop using screws or clamps. Screwing this commercial flat panel TV stand to a desk creates a permanent display. Using the clamps allows for the unit to be moved whenever necessary.
Another great feature of these desktop mounts is the number of televisions or monitors each unit will hold. Some hold just one flat screen plasma or LCD monitor. Others hold up to four LCD monitors at once! What a great space saving idea! Often used by security companies to allow the monitoring of several rooms at once, these TV stands for business are also great for employees that routinely work with multiple software operations. Multiple screens allows for a great deal of multitasking and is a time saver as staff no longer have to open and close software or windows as they need them on multiple computers.
An additional benefit is that employees get their workspace back. If you have ever worked with two or more flat panel monitors, you know how much desk space you lose to the base of the monitors. By elevating the monitors onto one post style stand, you gain a lot of workspace. That is ideal for those employees that go through a lot of written documents while also working with software applications.
This LCD or plasma monitor rack doesn't just provide a convenient way to display monitors on a desktop or counter. It is also an ergonomic flat screen mount that makes it easier to sit at a computer for eight hours a day. The wide range of mobility of the screen allows this as does the elevated screen. These TV mounts are articulating arms and also tilt to provide the best view of the monitor screen while reducing neck strain. These ergonomic units are a lifesaver to employees and actually help employees to be more productive during the day.